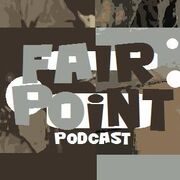 Fair Point Podcast is an on-going podcast series, created and hosted by
Nathan Kappesser
and
Craig Lewis
. It is an explicit and comedic show which aims to educate listeners about the various topics chosen for discussion. Often, the hosts will be joined by
guest hosts
or by a cast of unusual
characters
. Though the podcast focuses on exploring the given topics, it has developed an on-going narrative and continuity through the jokes and occasional sketches.
Season One (Episode #00 to Episode #50), 2012-2014
Edit
After a rocky start, Nathan and Craig begin cutting their teeth and developing their supreme podcasting skills.  This season featured guest hosts such as Tommy Lincoln, New Era, Brandon Dyer, Blurry Photos Podcast's David Flora and Dave Stecco, and One Last Shot.
Early on in the season, Nathan and Craig are visited by a night omnipotent being known as The Omniscient One.  He gives them a vision of the future, a world in which they were heads in jars and humanity was ruled by evil robot overlords, and tells them that they are destined to change the future.  Brandon Dyer, Steampunk Morgan Freeman, Bosnian John Travolta, and Guy Fawkes all sleep on the floor of The Secret Room, on and off, throughout the season.  The season concludes with Nathan unveiling his time machine and being killed by Mecha Brandon Dyer.  Craig uses the time machine to retrieve Nathan and go back to fix their early episodes.  However, they are advised by The Omniscient One not to be so cavalier with time travel.  Nathan and Craig destroy the time machine and go back to The Secret Room to focus on progressing with the podcast.